People's Media:
MAKERERE University students formed the largest percentage of the demonstration and displayed the Chinese litho anti-mosquito power gadgets the uganda notorius regime is promoting to the gullible masses, yesterday.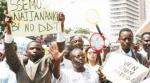 Bodaboda(motor bike) riders carrying banners headed the demonstrators marching through Kampala Road, Nkrumah and Entebbe roads and finally settled at the Clock Tower.

While some demonstrators carried banners saying DDT shouldn't be used, others were attacking the Minister of Health, Brig. Jim Muhwezi saying he should be sacked.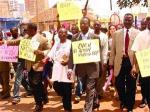 "The Speaker of the House denied me an opportunity to justify the motion against DDT," Lukyamuzi told the demonstrators at Clock Tower.
DDT is a persistent pollutant and nobody should put lives of Ugandans at risk by spraying it.
The students under the banner of Makerere University Environment Management Association condemned the use of DDT, saying it would cause cancer and brain damage. DDT is a legal weapon of mass destruction of the environment ant its habitats period!!