Peoples' Media:

Dictator Museveni has since 1997 been involved in the systematic destabilisation of the Democratic Republic of Congo, and the resultant horrific civil war. This involvement continues to this day.As early as 1992 'The Guardian' reported that: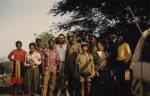 "In the six years since Yoweri Museveni took power, his government has managed to alienate three of its five neighbours. Relations remain good with only Tanzania and Congo DRC." Museveni sparked off Africa's most tragic humanitarian crisis when it subsequently sought to destabilise Congo DRC. In 1997, the London 'Times' reported that "Uganda ... backed an uprising by rebels in eastern Congo DRC who's aim was to drive the Zairean Army from the region and bring down President Mobutu"

In 2001, Human Rights Watch documented this involvement, stating that Museveni had "fuelled political and ethnic strife in eastern Congo with disastrous consequences for the local population."This had included stirring up ethnic violence, murdering civilians and "laying waste their villages."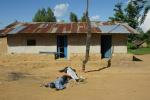 Human Rights Watch had also previously noted that Uganda was responsible for the murder of large numbers of civilians in north- east Congo.This was also confirmed by Congolese human rights organisations.In late 2002, Uganda was subsequently again accused of deliberately seeking to "provoke ethnic conflict, as in the past" - actions which the United Nations warned risked genocide in the region. In July 2003, a Human Rights Watch report, '"Covered in Blood": Ethnically Targeted Violence', stated, for example, that Uganda was involved in the ethnically-motivated murder of several thousand Congolese civilians in the Ituri area of north-eastern Uganda. Uganda continues to arm Congolese gunmen responsible for horrific acts of terrorism - acts every bit as horrific as those attributed to the LRA in northern Uganda. The Museveni regime was also accused of militarily and logistically assisting the UNITA rebel movement in Angola.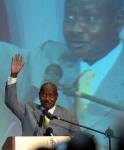 Additionally, the UN has repeatedly stated that Uganda was criminally and systematically stealing Congo's resources. A Human Rights Watch report also noted that Ugandan forces "have blatantly exploited Congolese wealth for their own benefit and that of their superiors at home."

The hypocrisy of Museveni's public bleating about neighbouring states allegedly destabilising his government is clear.
The International Community's Responsibility for Continuing Conflict in Uganda.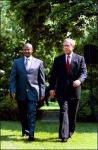 The international community itself shares a partial responsibility for the continuing war in northern Uganda. This responsibility is at least two-fold. Western governments continue to project Uganda as a success story when the reality is that it is wracked by political turmoil and Uganda's economy is artificially buoyed by aid. A Refugees International report has observed, for example, that according to one estimate donors provide about 53 percent of Uganda's budget. They also cited a UN official as saying: "[D]onors don't want to portray Uganda as another African country that is going down the drain. Because they give so much to Uganda, donors have a political motivation to make sure that it is seen as a success story."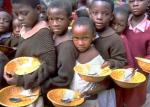 This pretence ignores, in addition to the conflict in northern Uganda, Museveni's responsibility for the deaths of millions of civilians in Congo. The international community, by facilitating a military rather than a peaceful solution, also bears a direct responsibility for prolonging conflict.

A UN news report, for example, has noted: "Some aid agencies working in the north have criticised the international community for allowing Museveni's government to keep the humanitarian crisis in the north on the back burner ... For example, they have expressed concern over the government's recent decision to re-allocate 23 percent of funds from other ministries to defence, seen by some as indicating a preference for a military solution over a peaceful settlement in the north."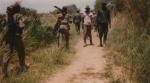 We call upon all our friends around the world to publish the crimes of Yoweri Museveni and also educate their local communities about the african Polpot.