By Solomon Muyita, Simon Kasyate, Charles M. Mpagi & Agness Nandutu

KAMPALA — Demonstrators protesting to what they called "unfriendly remarks against the sovereignty and independence of Uganda" yesterday stormed the British High Commission and the Parliament in Kampala.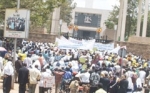 The crowd of several hundreds, calling themselves Concerned Patriots, condemned remarks by a British minister who recently questioned Uganda's commitment to democracy and Irish rock star and aid campaigner Bob Geldof who accused President Museveni of wanting to rule for life.

The demonstrators first marched through the city, before camping outside the British High Commission. They later moved to the Parliament, which is about 100 metres away.
Many were walking, while some clung to several trucks in a convoy.
They blew whistles, chanted slogans in support of the government and danced to music blaring from a truck.

Many were draped in dry banana leaves (essanja), the symbol of the campaign for a third term for President Yoweri Museveni.
The demonstrators carried tree branches, banners and placards denouncing remarks made against what is widely believed to be Museveni's attempt to cling onto power through a constitutional amendment. "We support our system until 2011; Long Live Lt. Gen. Yoweri Kaguta Museveni," one placard proclaimed.

The demonstrators denounced what they called attempts by Britain, Uganda's former coloniser, to recolonise the country.
"We say NO to recolonisation," read one placard.
"You never gave us democracy yet you colonised us," another said.

Some others read: "You called Amin a gentle giant"; "Keep your donations, we retain our freedom"; "Cheap politicking should not be part of UK led economic commission"; "We fought for our freedom, we died as you looked on. Keep off."
Mr James Mutumba, 35, who described himself as the Chief Operations Coordinator for the demonstration said: "We are here because the British are belittling us; they forget that Uganda is a state."
Some of the placards were aimed at Geldof.

Geldof recently criticised Museveni at the launch of the report of the UK-led Africa Commission. He said, "The president of Uganda, who implemented poverty measures and AIDS measures that all worked with debt relief, is now trying to be president for life. Get a grip Museveni. Your time is up, go away."

Some demonstrators' placards read: "Geldof sober up and shut up"; "NO to drug addicts and Rock Homos"; "Geldof, Africa is not a drama theatre, let Museveni stay"; and "Geldof, know that Museveni is a freedom fighter not an actor."

For about 30 minutes, the demonstrators interrupted movement in and out of the High Commission on Parliament Avenue. One of their leaders was let in to hand over a statement addressed to the High Commissioner, Mr Adam Wood.
The statement said the demonstrators had been offended by remarks made by Bill Rammell, a minister in the Foreign Office, and musician Geldof.

Rammell was recently reported to have told the British Parliament that his government was concerned about "countries like Uganda and Zimbabwe, where poor adherence to inernational human rights standards, and a lack of commitment to democracy, good governance and the rule of law, cause us particular concern."

The demonstrators' statement said, "We are citizens of Uganda who are deeply concerned and bothered by these remarks and the circumstances under which they are being made. We should like to request you to please kindly and urgently communicate to the government of the United Kingdom our extreme displeasure."

The statement signed by Mr Paul Musamali and Mr Odur Byaruhanga, the chairman and secretary general of the little-known group, added, "We condemn the remarks in the strongest possible terms and dismiss them with the contempt they deserve."
The demonstrators were later denied entry at Parliament, although Musamali and a few leaders were allowed in to present a copy of their one-and-a quarter-page statement to the Speaker, Mr Edward Sekandi.

In a brief address to the leaders, Sekandi called upon Ugandans not to panic adding that foreigners cannot influence Parliament's decisions.
"I agree with the petitioners that Uganda has to be respected as a sovereign country. Uganda has its constitution and is able to handle the constitutional amendments," he said.



He said MPs can ably handle the constitutional amendments and they will take national interests to guide them to do what is good for Ugandans. One of the demonstrators, Mr Moses Nuwagaba, a media coordinator for Makerere University Movement Forum said: "We are saying no to external influence from neocolonialists specifically UK. We are telling them that they ruled us for 100 years and we did not see any elections or term limits, so what moral authority do they have now to preach democracy to us?"

He said British Prime Minister, Mr Tony Blair, was also seeking a third term in office.
Odwori Akwenda, 20, of Mukono University, said he participated in the demonstration because he was opposed to the British government's interference in Uganda's politics. "We are telling them that power [to decide on our governance] belongs to Ugandans," he said.

Nakawa Deputy RDC, Mr Mpimbaza Hashaka, said the event was a "demonstration of the people's power." The donors are yet to see more, he added.
The demonstration appeared to be well coordinated. Some unconfirmed reports said the demonstration was orchestrated by forces close to the NRM and the government.

Students were ferried to the city centre on trucks and omnibuses from the universities of Makerere, Kampala International (KIU), and Mukono, as well as Kibuli Teachers College and various secondary schools in and around Kampala.
They joined other demonstrators ferried in earlier.
After the demo they were served with soda at the Constitution Square.

Re-published from www.monitor.co.ug