Silent Voices:

The Ugandan army has moved hundreds of thousands of civilians against their will into "protected villages" that offer little security and hardly any assistance, and has victimized ordinary people with brutal raids against suspected LRA militants.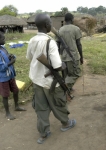 While the death toll from direct violence reaches into the tens of thousands, chronic food and water shortages in the 200 makeshift settlements throughout the north have also exacted a heavy price. In November 2004 alone, MSF recorded staggering death rates in six camps in Lira and Pader districts, with many dying from preventable diseases like malaria, respiratory disease, and diarrhea. Recent peace overtures from both the LRA and the government have not led to a noticeable improvement of the situation for people living in deplorable conditions and in constant fear. GULU district councillors have accused UPDF soldiers of killing civilians in displaced people's camps and in the villages.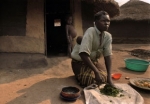 The LC5 councillor for Lalogi sub-county, Ben Acellam, said the UPDF shot dead three women in the sub-county, adding that two of them had children, one aged seven months and another aged two.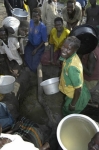 He said the UPDF 4th division commander, Col. Nathan Mugisha, had promised to take action against the killers but so far nothing seemed to have been done.

"UPDF soldiers are arresting and killing civilians in the villages on the allegations that they are rebel collaborators," he said during a meeting at Gulu district council hall on Tuesday.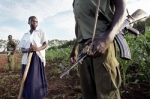 Richard Oweka Kagwa, without giving the number of civilians arrested and killed by the UPDF, said some civilians were killed by the army in Awach and Cwero villages in Aswa county.

The councillor for Koch Goma sub-county, Tom Ocitti, said five soldiers and two civilians died when the UPDF opened gunfire against each other due to poor coordination.


ANOTHER DARFUR?

U.N. Emergency Relief Coordinator Jan Egeland compared the situation to the well-publicised problems in Sudan's Darfur region.

"If they go out (of camps), they are killed as much, or raped as much or worse as in Darfur, by the Lord's Resistance Army and others," Egeland said in a recent statement.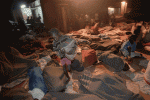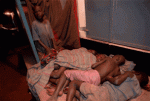 Museveni has rejected the comparison, but that hasn't stopped aid workers continuing to make it.

"One hundred percent of the population is affected by this kind of crisis -- it's huge," Gael Griette, an expert covering Uganda for the European Commission's Humanitarian Aid Office (ECHO), told AlertNet.

Griette said that the entire rural population of Acholiland was in displacement camps.

"People have been cut off from their livelihoods, cut off from everything. They are in camps with nothing, and insecurity is very high," he said.

"In terms of magnitude and acuteness we can compare what is going on in Northern Uganda to Darfur.

"What is very different between the two crises is the way it is addressed in terms of funding, humanitarian agencies being present in the field, and on top of all it is very different in the way it is being covered in the media."

Griette said one of the reasons northern Uganda did not get much media coverage was because the LRA had been terrorising the local population for so long that the crisis was seen as old news.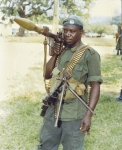 "But this is short-sighted because the crisis has tripled in terms of the number of people affected and multiplied by five or six in terms of acuteness in the past two years -- more or less the same time as the Darfur crisis," he said.