Today 90% of Uganda institutions are either broken and rotten due to chronic mismanagement or are run by an extended or family member of Criminal Yoweri Museveni.Thus, the regime of Criminal Yoweri Museveni will not only be remembered for killing and embezzlement, but also for mercilessly destroying Uganda institutions.
What is sickening and pathetic, is the way Uganda elite class has shamelessly participated in destroying the Uganda social fabric-wanting free things and stealing from other people, has become the mainstream national culture of Uganda. Thus, every fund in the public purse regardless of saving lives-preventing disease so Ugandans can grow up to lead productive lives, is there for the taking by the elite and their accomplices.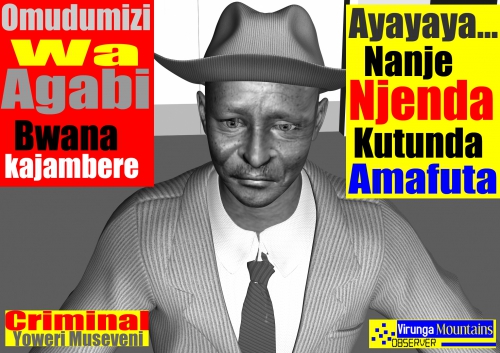 The most worrying thing is the notion that has been embedded in the elite class, that Uganda is gifted by nature. Maybe gifted by natural mismanagement,corruption,copying,war mongering,idle talk,etc.
Thus, Uganda being gifted by nature does not mean that wanainchi have an equal share in it, nor is the so called nature going to be there in the next ten years and in the hands of Ugandans. What we seem to have in the Uganda thieving League, are the same faces since; Obote(1),Amin, UNLF,Obote(2),Museveni(1),Museveni(2),Museveni(3),Museveni(4)…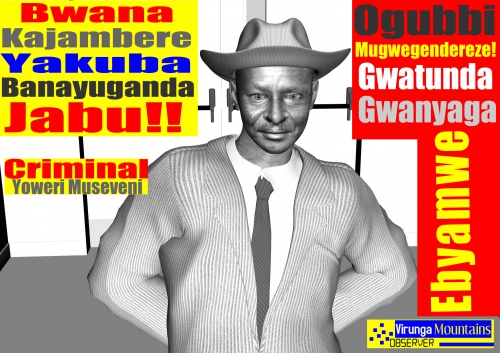 While the Asians and other races are eating the best organic foods from Uganda, Ugandans are becoming the fastest consumers of organically modified products in the world. All Uganda forests and swamps are now owned by a few individuals-80% of fertile land is owned by 7% and their foreign surrogates.
The population has been militarised not to defend their country, but a criminal ideology of Dictator Yoweri Museveni.
However, in most cases-the very militarised population is so ignorant to even understand that, they're instead guarding their own property that has been stolen from them,by Criminal Yoweri Museveni. Thus,the best commandos that Uganda has ever trained, are now guarding the Uganda oil fields that have already been stolen under their noses, and sold to foreigners. Banauganda bba Fala nyoooooooooo!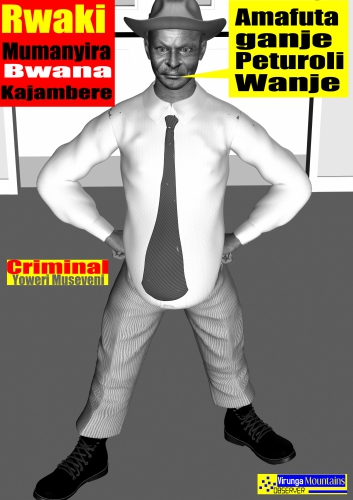 The criminal league of Uganda thieves is getting bigger and better at concealing its trucks-they've learnt how to make transfers of different thieves to various juicy organisations.
We found that the thieves have infiltrated all organisations that have an endless pot of money such as, institutions for higher learning, Religious,medical(Hospitals,Clinics,etc)establishments,the old ministry,etc. Of course, the criminal league would not survive without functioning patronage networks that have been created by Criminal Museveni and Criminal Amama Mbabazi and their respective parasitic families and friends.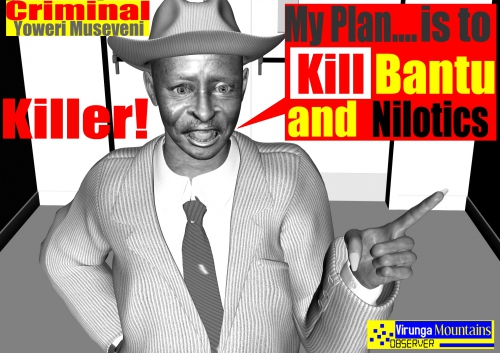 The criminal ring in Uganda has many faces-the thieves that have milked your country should be exposed regardless of their titles,academic knowledge,relationship,etc. as a thief is a thief and nothing less.
What is so sad, is the manner these criminals are celebrated as contributors towards social-economic transformation and attainment of the United Nations Millennium Development Goals in Uganda. Nonsense!!
As if Uganda didn't exist and our people were living in caves and trees before the so called United Nations Millennium Development Goal in Uganda was planted as a tool to mug our people.
This new face of Uganda criminals tend to be holders of academic titles(Bba twasoma),well connected,members of an established civil organisation like a political party,commission,civil society,committee,etc. They all tend to have three common characteristic;Parasitic, arrogance and self-importance. bepanka nyo atte balina amazaluo!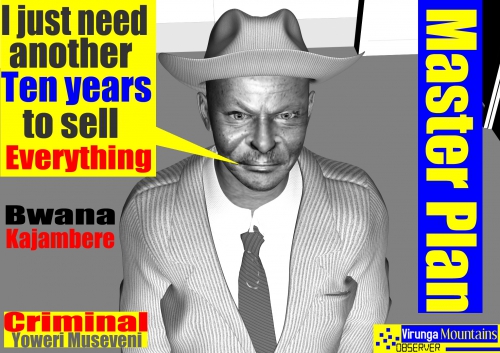 But as many of you are very aware, Uganda also has another class of hardcore thieves like;Yoweri Museveni,Amama Mbabazi,Moses Ali, Salim Saleh,Kahinda Otafire,Mike Mukula,Jim Muwhezi,Hajji Nasser Ntege Sebaggala aka 'Sseya',Gen. David Sejusa a.k.a Tinyefuza, etc. this list will be published soon as we need to first show you another criminal face that has been hiding among you for a very long-time.
1. Hope Mwesigye (professional embezzler and black-mailer)
2. Rebecca Kadaga (Speaker of Parliament)
3. Juliet Semambo Kalema (Uganda Embassy in China)
4. Bishop Elia Paul Luzinda Kizito (Bishop of Mukono Diocese)
5. Canon Dr. Sheila Zaramba Ndyanabangi (Ministry Of Health)
6. Dr Alfred Lwako (Agency For Accelerated Regional Development)
7. Dr Allen Byamugisha (Deputy Librarian Makerere University)
8. Dr Charles Mbire (Chairman MTN UGANDA)
9. Dr John Baptist Kirabira (MaKerere University)
10. Dr Johnson Ngorok (Country Director Sight Savers Uganda)
11. Dr Moses Nduhira Twesigye–Omwe(Uganda Technical College Kichwamba)
12. Dr Mubazi John Kigongo (Faculty of Economics and Mgt Makerere University)
13. Dr Obwoya Kinyera Sam (Physics Department Kyambogo University)
14. Dr Oteba Martin (Pharmacy Division Ministry of Health)
15. Dr Samuel Baker Kucel (Deputy Vice Chancellor Busitema University)
16. Dr Sazir Nsubuga Mayanja (Uganda Land Commission)
17. Dr Shirazi Meghani (Chairman Megha Industries Ltd)
18. Dr Tumwine Fredrick Ruguma (Makerere University)
19. Dr Yayi Alfred (Yumbe District Health Office)
20. Dr. Ahmad Kawesa Sengendo (Vice Chancellor Islamic University in Uganda)
21. Dr. Albert Byamugisha (Office of The Prime Minister Of Uganda)
22. Dr. Birungi Mutahunga (Executive Director Bwindi Community Hospital)
23. Dr. Yusuf K. Nsubuga (Ministry Of Education and Sports)
24. Eng Hon Irene Margaret Nafuna-Muloni (Minister for Energy and Minerals
Development)
25. Badru M. Kiggundu (Chairman Electoral Commission)
26.Keith Mukahanizi(finance ministry permanent secretary)
27. Keith Kalyegira (Capital Markets Authority (CMA) )
28. Apollo Ssegawa (Managing Director of CURAD)
29. Patrick Bitature (Board Chairman Umeme Limited)
30. Charles Chapman (managing director of Umeme)
31. Elly Karuhanga (Partner Kampala Associated Advocates)
32. Moses Magogo(FUFA President)
33. Amelia Kyambadde (Minister of Trade and Industry)
34. Asuman Kiyingi (Minister of State for Regional Cooperation)
35. Barbara Oundo Nekesa (Minister of State For Karamoja Affairs)
36. Ernest Kiiza Apuuli (Minister of State for Bunyoro Affairs)
37. Prof Ephraim Kamuntu (Minister for Water and Environment)
38. Fred Jachan Omach Mandir (Minister of State for General Duties)
39. Dr Ruhakana Rugunda (Ministry Of Health)
40. John M. Nasasira(Minister for ICT)
41. Justice Irene Esther Mulyagonja Kakooza (Inspector General of Government)
42. Justice Professor Lillian Tibatemwa-Ekirikubinza (Court of Appeal)
43. Kalisa Kabagambe (Permanent Secretary Ministry Of Energy and
Minerals Development)
44. Fagil Musa Mandy (ChairmanUganda National Examination Board)
45. Rosemary Mutyabule (Director, Business Advisory services, Enterprise Uganda)
46. Francis Kamulegeya (Country Manager Price Waterhouse Coopers
Uganda)
47. Joseph "Ambiance" Kiyimba (disco tycoon)
48. Margret Nantongo Zziwa (Speaker for the East African Legislative Assembly)
49. Bamugemereire George (Deputy Inspector General of Government)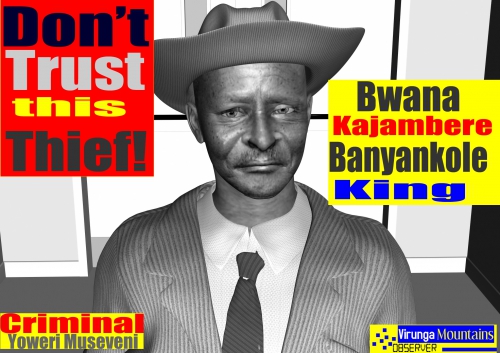 50. Ben Mugasha (Chairman Bemuga Forwarders Ltd)
51. Charles Odere (Managing Partner Lex Law Associates)
52. Davy Mugamba (Managing Partner Pro-Plan Partners)
53. Norbert Mao (Democratic Party (DP) President)
54. Edwards Katto (Commissioner Ministry of Energy And Minerals
Development)
55. Godfrey Arnold Dhatemwa
56. Gordon Mwesigye (Permanent Secretary Uganda Human Rights
Commission)
57. Hasmukh Purshottam Dawda (Chairman Britannia Allied Industries Ltd)
58. Ilahi Maasu Mansoor (Commissioner Technical Education Minsitry of
Education)
59. John Eric Mugyenzi (CEO Uganda Electricity Generation Co.Ltd)
60. Michael Mugabi (Corporation Secretary Housing Finance Bank)
61. Moru Ben Constantine Grace (Chairman Kiryandongo District)
62. Newton Jazire (CEO Lions Assurance Uganda)
63. Ngobi Fredie Aggrey (Chief Administrative Officer Kibuku District)
64. Nicholas John Okwi (CEO Housing Finance Bank)
65. Omagor Martin (Ministry Of Education and Sports)
66. Patrick Mutimba (Makerere University Investment Office)
67. Paul Kintu (Commissioner for Community Affairs-Ministry Of Internal
Affairs)
68. Peter Etabu (Country Director-Right to Play Uganda)
69. Robinson Nsumba Lyazi (Commissioner for Private Schools Ministry of
Education and Sports)
70. Rubondo Ernst (Commissioner for Petroleum Ministry Of Energy and
Minerals Development)
71. Ssansa Mugenyi Frederick Edward (Office of the Prime Minister)
72. William Mugarura Kanyesigye (Chief Administrative Officer Kasese
District)
73. Allen Kagina (Uganda Revenue Authority)
74. Christine Rebecca Nakyali Mubiru (Policy Analyst Ministry of Health)
75. Deborah Tibamwenda Kabahweza (Internal Auditor Bank of Uganda)
76. Jacqueline Mbabazi (Chairperson Agency for National Development)
77. Julian Kyomuhangi (Ministry of Health)
78. Kamariza Joweria (Principal Accountant Ministry of Foreign Affairs)
79. Sekai Chikowero (Country Director Africare Uganda)
80. Serinah Mushang Muganzi (CEO Millennium Promotions)
81. Valerie Miquel (UNCB)
82. Abalo Gertrude (Fisheries Training Institute)
83. Asteway Desta Zemedagegnehu (DHL Uganda)
84. Ongodia Nicholas Etinu (Commissioner Passport Control Office)
85. Prof David Bakibinga (School of Law Makerere University)
86. Kizza Besigye (former leader of the Forum for Democratic Change Party)
87. Prof Pius Okong (Chairman Health Service Commission)
88. Prof. Solomon Baluki Wakabi (Vice Chancellor Fairland University)
89. Prof. Tarsis Bazana Kabwegyere (Minister for General Duties Office of The
Prime Minister)
90. Rev. Dr. Solomon Basabose Nkesiga (Vice Chancellor Bishop Stuart
University)
91. Rev.Dr. Florence Isabirye Muranga (Executive Director Presidential Initiative
on Banana Industrial Development)
92. Jacob Oulanyah (Deputy Speaker of Parliament of Uganda)
93. Khalid Sheikh (Chairman Clifton Packaging UK)
94. Rosemary N. Ssenabulya(Federation of Uganda Employers (FUE))
95. The Rt Rev Dr Stephen Samuel Kaziimba Mugalu (Bishop of Mityana Diocese)
96. Alex Kibandama (National Roads Authority (UNRA) lawyer)
97. William Tumwine (National Roads Authority (UNRA) lawyer)
98. Sheikh Shaban Ramadhan Mubaje (Squatter at Uganda Muslim Supreme Council Offices)
99.Hassan Basajjabalaba (chairman NRM entrepreneurs league)
100. Dr. Silver Mugisha (National Water and Sewerage Cooperation (NWSC) )
This list has not been ordered according to levels of criminality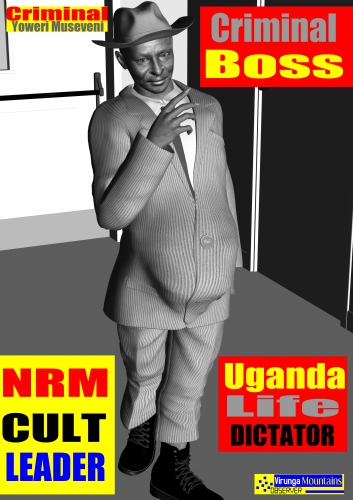 What we want Ugandans to understand, is that anyone involved in taking our people for mugs, we shall expose them and also make sure in a post-Museveni government, they'll be prosecuted.