People's Media:


"Those in authority fear the mask for their power partly resides in identifying, stamping and cataloguing: in knowing who you are...our masks are not to conceal our identity but to reveal it...Today we shall give this resistance a face; for by putting on our masks we reveal our unity; and by raising our voices in the street together, we speak our anger at the facelessness of power..."
The Zapatistas are not the first 'radicals' to mask up in black as historians will be quick to point out. The tradition of masking up for political struggle can be traced to Autonomists who operated in Europe over 20 years ago. The first so-called autonomists were those individuals involved in the Italian Autonomia movement that got its start during the Hot Autumn of 1969, a time of intense social unrest. Throughout the 1970s in Italy a widespread movement for total social change was initiated by autonomous groups of factory workers, women and students.
Masking- up was brought back to international attention with the Zapatista uprising and with the participation Black Bloc anarchists in anti-globalisation protests. The Zapatistas have a strong support base within the anarchist community in general, many are attracted to the Zapatistas organising in non-hierachial ways, and the Zapatistas struggle for indigenous autonomy without seeking state power. The similarity of the Zapatista dress code and Black Bloc anarchists is of course obvious. Ski-masks, or any sort of black mask. Recently Black Bloc anarchists have emulated the charasmatic imagery and rhetoric of Zapatism. Some have even used this to help recruit a 'few good anarchists' for Black Bloc demonstrations.
A black bloc is a collection of anarchists and anarchist affinity groups that get together for a particular protest action.The flavor of the black bloc changes from action to action, but the main goals are to provide solidarity in the face of a repressive police state and to convey an anarchist critique of whatever is being protested that day.There are many reasons for the masks, beyond the media attention black masks get. The main one is the recognition that the police videotape activists and keep files on them. Masks also promote anonymity and egalitarianism.
They also protect the identities of those who want to engage in illegal acts and escape to fight another day!There have been critisim of Black Bloc protest because of perceived violence. But Black Bloc advocates have responded by saying "We contend that property destruction is not a violent activity unless it destroys lives or causes pain in the process. By this definition, private property--especially corporate private property--is itself infinitely more violent than any action taken against it."
Black Bloc critics point to the seemingly randomness of Black Bloc targets, but if one looks closer, the targets global corporates like McDonalds or banks, in the case of Seattle, activists outlined why certain corporates were targeted for Black Bloc 'redesigning'.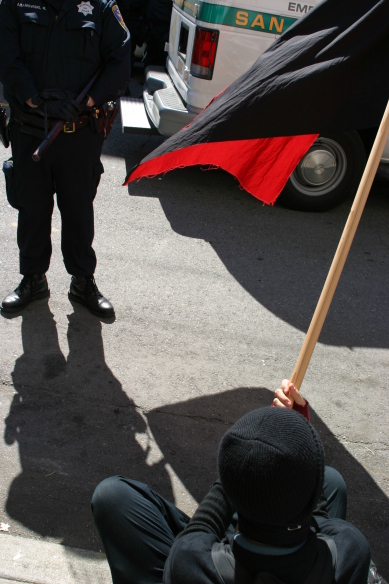 "No justice, no peace, fuck the police!"

"America's infamous Black Bloc were once again out in force in the streets of the nation's capitol today, April 16.
A posse of around two hundred masked-up teenage ninja revolutionaries marched on the IMF and World Bank at around 7am under a sea of black and red flags and a twenty foot banner declaring them the "Revolutionary Anti Capitalist Bloc." They then set about on a running, wall tagging, barricade building, cop baiting rampage. 'Fuck the Whorehouse' appeared on a Whitehouse outbuilding wall, The World Bank's door plaque now boasts a natty anarchy sign and a federal spook's motor lost a couple of windows."


Black Bloc groups have been present in protests in Melbourne, Prague, Davos, Nice, London, Seattle, Washington and no doubt they will appear in uganda.
Black bloc has no problem with civilian protesters and strongly maintains solidarity!!