KYAKA, Uganda, Friday

Congolese doctor Anthony Ntakabuza fled his private medical clinic with his wife and children after gunmen padlocked his brother's mouth shut and then threatened to chop his own head off and put it on a stick.

After making a 150 km (90 mile) trek over towering mountains to reach a refugee camp in neighbouring Uganda, the 39-year-old was shocked when two of his pursuers followed him there.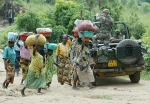 "They told me, 'If you hide underground, we will hunt you down. If you go to heaven, we will find you there.'
When I saw them here in Kyaka I thought this is really my death now," he said, eyes shifting uneasily over the nearby tents and huts.

Ntakabuza is among hundreds of thousands of people who have fled violence in eastern Democratic Republic of Congo (DRC) in recent years. Congo's war officially ended in 2003 but refugees continue to arrive in Uganda, desperately trying to escape persisting bloodshed.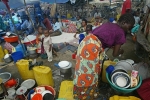 The men who forced him out of his home and practice in North Kivu province in eastern Congo in December were fighters from the feared Congolese Mai-Mai militia forces and Congo-based Rwandan rebels known as Interahamwe. Like many of the other irregular forces battling for control in the gold and diamond-rich region, the two groups are notorious for their brutality against unarmed civilians.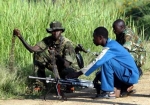 East Congo hit the headlines again when gunmen killed nine UN peacekeepers at Kakwa village in Ituri district (not part of North Kivu) on Feb. 25 and UN troops killed an estimated 50 militiamen at Loga village 40 km (25 miles) away on March 1.

The fighting could hurt efforts to end Congo's wider war, which at its height sucked in six countries and may have killed up to four million people, mainly through hunger and disease.Recent killings, particularly by militias from the Hema and Lendu ethnic groups in Ituri, are expected to force more refugees into Uganda. Aid workers say almost 5,000 new arrivals have been registered at Kyaka since December.

Patrick Ruweza fled Ituri's main town of Bunia after ethnic Lendu warriors hacked his parents and brother to death in front of him.The 18-year-old managed to escape and said he reached Uganda after crossing stormy Lake Albert in a flimsy canoe.

"Of course I was scared, but if you know there are people behind who want to kill you, you can overcome," he said.

Six years of conflict in Ituri has cost 50,000 lives and an estimated 70,000 people have been displaced this year alone. As in previous years, many brave cloud-wreathed mountain passes or a 30 km lake-crossing to the safety of rural western Uganda.

Some 11,000 refugees are hosted by Uganda's government and the U.N. refugee agency at Kyaka II settlement, where each family is given just over an acre to cultivate.

Many recent arrivals at Kyaka want to go home, but say they are scared. Most people said they had seen relatives tortured or raped, and many said their whole family had been killed.

"We have very many cases of rape, but sexual violence is not just rape. We have had some women recently whose private parts were so badly burned," said an official at a Kyaka clinic.

Many women have fled huge distances on foot, carrying several children, before reaching Uganda. Asina Ayoubo's husband was killed and her home burned to the ground by militiamen, but she was in the fields and got away with her six children.

Petrus Nabitanga said she walked to Uganda after her husband was massacred with 160 other refugees at Gatumba camp in Burundi last August. She said her nine children wake up screaming at night, traumatised after hearing their father die.

More than 100 civilians were killed and twice as many raped in December and January in fighting in the eastern Democratic Republic of Congo (DRC), UN investigators have said.

Mass killings, summary executions and systematic rape have been committed, often in all impunity, in the four parts of Nord-Kivu province — Rutshuru, Masisi, Walikale and Lubero — where the United Nations has carried out its investigation.

Regular Army troops, mutinous ex-soldiers and local militia fighters were all responsible for killings and atrocities in the area, the team of human rights investigators from the post-war UN mission in DRC (MONUC) has found.

In December, regular Army soldiers clashed in the area with mutinous troops — former members of the Rwandan-backed ANC rebel movement who were taken into the armed forces following the DRC's 1998-2003 war.

Fighting has simmered on in the region, and there have been widespread reports of atrocities committed against the civilian population.

"The security situation is worrying in Rutshuru, with an increase in the number of armed attacks and looting," the UN team coordinator Sonia Bakar said.

She said the crimes were committed not only by the Interahamwe, a Rwandan Hutu militia, and by the Mai-Mai, a pro-government militia, but also by the mutineers.

Bakar told reporters that the mutineers had been using "rape as a means of terrorising the population." They also carried out mass killings in Buramba, in the Rutshuru area, where UN observers confirmed at least 30 civilian deaths.


—Reuters