By David Lewis

TCHE, Congo, March 6 (Reuters) - Sheltering in a sea of green plastic tents, thousands of civilians in this eastern Congolese valley say they are too terrified to return to what little may remain of their ransacked homes.

New families, displaced by fighting, are continuing to arrive at the camp in Tche, northeastern Congo, where insecurity has kept vital medical help away. Aid workers say more than 10 people may be dying each day.
"The mortality rate in the camps is alarming," said Modibo Traore, head of the U.N. Office for the Coordination of Humanitarian Affairs (OCHA) in the main town Bunia.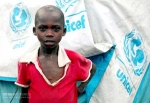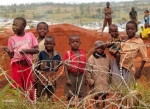 "Many of those now arriving in Tche do not have any means of collecting water or cooking food, and no possibility to reach medical assistance. The potential for a major epidemic in the Tche area is growing," he said.

Two months of clashes between Hema and Lendu militia have displaced 70,000 civilians in this remote part of Democratic Republic of Congo. Simmering ethnic warfare has killed 50,000 people in the region since 1999.

"The first attackers are those that carry the guns, then follow more men as well as the women and children with the machetes," said community leader Augustin Ngone, casting an eye over a valley that is now home to some 15,000 people.

"Children as young as eight are taking part. They just burn everything so we have to leave," he said.

U.N. helicopters occasionally buzz overhead, drowning out the sound of nervous chatter as they ferry in more peacekeepers to protect the refugee camp, one of several within a 50 km (31 miles) radius in Congo's Ituri district.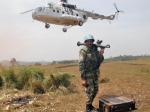 "We are just farmers but the FNI (a Lendu militia) came along and burned everything," said Robert Longa, a Hema who fled the nearby village of Kawa to hide in Tche.

"I don't know why they are doing this. The day I fled, I saw 30 people being shot. Without security here, we can't go back," he said, as around 100 Pakistani U.N. peacekeepers watched over the camp from tanks and machine gun positions.

KIDNAPPINGS

An upsurge in fighting in Ituri since December has damaged efforts by the former Belgian colony to recover from a wider 1998-2003 war that at one point sucked in six countries.

Warlords are still in charge in this region rich in gold, diamonds and timber. Their militia run extortion rackets and as well as attacking civilians. Gunmen last month shot dead nine Bangladeshi U.N. peacekeepers near Kakwa village.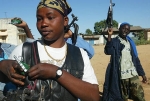 Peacekeepers say there have been frequent mass kidnappings of Hema by Lendu gunmen during the fighting.

"I was taken from Tche three weeks ago. One of the Lendus forced me to be their wife. I had to sleep with him whenever he wanted. But I managed to escape when we went to the market," said Demba Matuti, 18, who had walked all night to reach Tche.
"I'm glad to be here but I am scared they will attack us here as well," she said.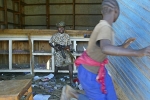 Aid agencies have set up similar camps for the displaced in the fishing villages that are dotted up and down the shores of Lake Albert, which separates Congo from neighbouring Uganda.

Aid workers are starting to return after staying away because of fighting. They say sanitation in the camps is deteriorating rapidly with many people suffering from diarrhoea.

"During the five days we did not come, there were 25 deaths. This is five times above the acceptable rate," said Patrick Barbier, head of the Medecins Sans Frontiers team running health facilities in the camp at Tche.

"If there is no permanent medical presence, these people just can't cope," he said.