By Ruth Gidley

London - Brutal conflicts in Congo, Uganda and Sudan are the world's three biggest "forgotten emergencies", each dwarfing the toll of the Asian tsunami but attracting scant media interest, a Reuters poll of experts showed on Thursday.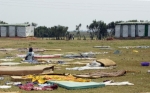 War in Democratic Republic of Congo has claimed at least 10 times as many lives as the December tsunami yet remains almost unheard of outside of Africa, key players in the aid world said.



"It's the worst humanitarian tragedy since the Holocaust," said John O'Shea, chief executive of Irish relief agency GOAL. "The greatest example on the planet of man's inhumanity to man."

'The greatest example on the planet of man's inhumanity to man'
Reuters AlertNet, a humanitarian news website run by Reuters Foundation, asked more than 100 humanitarian professionals, media personalities, academics and activists which "forgotten" crises the media should focus on in 2005.

After Congo, they chose northern Uganda, west and south Sudan, West Africa, Colombia, Chechnya, Nepal and Haiti as the most neglected humanitarian hotspots.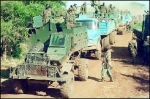 They also highlighted the global AIDS pandemic and other infectious diseases such as malaria and tuberculosis as "silent tsunamis" that kill millions every year.

"Africa experiences the devastating effect of two tsunamis every month," said Amy Slorach, appeal coordinator for British relief organisation Tearfund.

Many experts accused the Western media of routinely ignoring emergencies in countries of little geopolitical significance for big powers despite the enormous scale of suffering.

"One television news producer we met in the US summed up the situation since spring 2003 this way: 'Look, we've got three foreign news priorities these days: Iraq, Iraq, Iraq,'" said Gareth Evans, head of the International Crisis Group think tank.

"And Iraq is not simply an American obsession. We've heard a similar refrain from news producers and newspaper editors again and again throughout Europe and elsewhere."

Almost half of those polled - including UN relief coordinator Jan Egeland and US leftwing intellectual Noam Chomsky - nominated Congo, citing the brutality of an ugly, tangled war that has killed nearly four million people since 1998.

Congo's war officially ended in 2003 but fighting still rages in parts of the east and the United Nations estimates that 3 million people are cut off from desperately needed aid.

"The human suffering is mind-boggling," said Lindsey Hilsum, international editor for Britain's Channel 4 News. "The wickedness and cruelty of the armed men who kill and maim and rape defies belief."

The details of northern Uganda's 18-year war, ranked second in the AlertNet poll, are just as shocking.

More than 20 000 children have been abducted by a cult-like rebel group and forced to serve as soldiers and sex slaves, while most of the population in the conflict zone have been forced from their homes into squalid camps, say aid agencies.

"Like many people, I didn't have any idea of the scale of this conflict," said British Hollywod star Helen Mirren, who traveled to Uganda with relief agency Oxfam.

"Nearly two million people have been made homeless and hundreds of thousands more have been killed."

The experts' third most neglected emergency was Sudan, where Africa's longest-running civil war has raged for two decades in the south and almost two years of atrocities in the western Darfur region have raised the spectre of genocide.

"Darfur has slipped from the front pages, but the situation there is again going from terrible to being absolutely horrendous," UN relief coordinator Jan Egeland said.

The poll also highlighted misery in West Africa after bloodletting in Liberia, Ivory Coast and Sierra Leone, along with suffering in conflict-riven Chechnya, Nepal and Haiti.

Experts urged the media not to ignore the impact of the HIV and Aids pandemic sweeping sub-Saharan Africa and threatening to explode in India and China, the world's most populous countries.

They also drew attention to lesser-known Aids threats in Eastern Europe, the Caribbean and Papua New Guinea, along with other infectious diseases. Malaria kills an African child every 30 seconds, while tuberculosis kills about 2 million a year worldwide.