DRC: UN seizes weapons in Ituri
18 Mar 2005 15:56:09 GMT
Source: IRIN
KINSHASA, 18 March (IRIN) - Peacekeepers in the Democratic Republic of Congo (DRC) seized guns and ammunitions on Wednesday in the embattled northeastern district of Ituri, the UN Mission there, known as MONUC, said.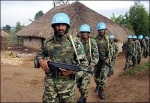 UN troops discovered the guns during an ongoing operation "cordon and search" in the territory of Zumbe, near Bunia - the district capital - MONUC said on Thursday.

Elements of the rebel Front nationale de integrationiste (FNI) were suspected of being based in the territory.

The UN operations are aimed at "neutralising militiamen, reducing their capacity for nuisance, forcing them into flight or retreat and cutting off their sources of illegal revenues," MONUC said.

Approximately 500 MONUC troops took part in the operation. They included Bangladeshi, Pakistani, South African, Moroccan and Nepalese contingents.

Recently, MONUC carried out operations in Loga, northeast of Bunia, during which they killed 60 FNI militiamen.

Guns and ammunitions are entering through Ituri to the eastern province of South Kivu from across the border with Uganda, Gen Patrick Cammaert, the acting commander of MONUC forces, said at a news conference on Wednesday in the capital, Kinshasa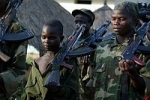 "We can see the flow of arms coming from Uganda, crossing Lake Albert, but we don't know yet who is behind it," Cammaert said. "We want to assure you that you will, when the time comes, see how we are going to conduct the operations on the lake."